SHABBY CHIC DIY

Outdated dressers are easily looked over but oftentimes carry so much hidden potential that can be brought out with a fresh coat of paint and a little distressing. They can be found at garage sales, thrift stores, flea markets and your neighborhood Craigslist.
If you've never heard of chalk paint, listen in. It's an amazing new type of paint that is easy to work with, requires little to no preparation, such as sanding or priming, and can be used for indoor and outdoor projects on all sorts of surfaces. It's best known for how it transforms furniture into beautifully aged and distressed-looking pieces. We love working with chalk paint, but the big-brand versions can be expensive. So we've learned how to mix our own using a mixture of household paint, plaster of Paris and water, and we're sharing our best recipe in today's post.
Things You'll Need:
Screwdriver

Cloth or rag

Palm sander, sandpaper sheets and sanding block

3 disposable plastic cups, 16 ounces

1 plastic mixing bucket, 1 quart

Plaster of Paris, ½ cup

Water, ½ cup

Latex paint, flat finish, 1 cup

Paint stirrer

Paint tray

Paint roller and frame, 3-inch

Small paintbrush

Cabinet pulls, if replacing
To prep the dresser, we removed each of the cabinet pulls and wiped the entire surface down with a clean, dry cloth (an old T-shirt will do), followed by a light all-over surface sanding with a palm sander to remove any hidden debris (sand in the direction of the grain). Wipe away any remaining sanded particles, and then remove drawers, setting them face up for easier painting, before moving on to the next step.
To make chalk paint for the project, start by mixing the plaster of Paris and water together in the 1 quart mixing bucket. When combined, stir in the full cup of paint. Continue to stir until combined.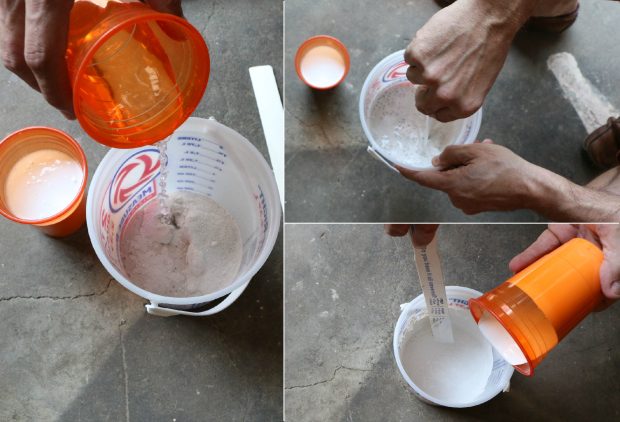 After it's mixed well, pour it into a paint tray and begin rolling the paint over the entire surface of the dresser and drawer faces, going with the grain of the wood. Use a small paintbrush to reach any areas you can't cover with the roller.
Because of its chalky consistency, the paint will roll on with what looks like grainy particles. Don't worry about these — when dry, they will sand away to a smooth finish with minimal effort.
When fully coated with paint, allow to dry for at least two hours (we told you chalk paint dries fast!), and then gently sand the entire surface with a palm sander to make it smooth. If you are happy with the paint coverage, move onto the next step. Otherwise, add a second coat of paint for fuller coverage (we used two coats here)
Use a sanding block to apply pressure over the corners, edges and detailed areas to achieve that beautiful aged and distressed look.
Clear away any remaining sanded particles and give the entire dresser another wipe down with a clean, dry cloth. At this stage you can continue to distress areas of the dresser to your liking or apply paint over areas you'd like less distressing over. It's a bit of a "building up and wearing away" process.
ENJOY!!!!
Read more : http://www.ehow.com/ehow-home/blog/before-after-an-outdated-garage-sale-dresser-gets-a-shabby-chic-makeover/?utm_source=pinterest&utm_medium=fanpage&utm_content=blog&crlt.pid=camp.DafYV1Ko2dRx&crlt.pid=camp.6o379GEfoC5U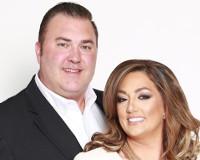 Author:
John and Ashley Lazosky
Phone:
702-281-1198
Dated:
June 24th 2015
Views:
270
About John and Ashley: We are the Broker/Owners of Vegas Homes and Fine Estates. We are proud to say we have a combined 22...