DIY HOME IMPROVEMENT BUDGET BATHROOM MAKEOVER FOR 265
HOW TO TRANSFORM A VINYL FLOOR FOR $10
This was the part of the project that kept me up at night thinking of ways to redo the floor without spending much. I ended up using a trick that I used when I worked in display. It turned out better than I expected.
HOW TO INSTALL A BOARD AND BATTEN TREATMENT TO WALLS
The part of the makeover that took the most thought was installing the board and batten. Lots of things to think about – how far apart I wanted the boards, thick or thin boards, how many obstacles I had to work around, how high etc. I had some of the boards cut to the exact size I needed at Lowes, not only to make the job easier, but so the boards would fit into my Jeep. The mitered corner cuts I had to do on my own. The miter saw was set up in my garage, this bathroom is upstairs – I got a lot of exercise. I just pretended I was at the gym and was on a Stairclimber. I used all pre-primed Mdf boards. I like using the Mdf because there are no wood knots and every piece is uniformly smooth. I used Liquid Nails to attach all the boards so I didn't need a nail gun, but a level is a must to make sure your boards are vertically as well as horizontally straight when you attach them to the wall. I spaced mine 12" apart which made it easy as I just placed a wood 12" ruler between the boards to get perfect spacing.
HOW TO ADD WOOD AND MOLDING TO FRAME A MIRROR
Next I moved on to give the existing mirrors a bit of style. We bought them at Home Depot when we moved into the house. We installed them with mirror clips as a temp fix that lasted till well…this past month. It turned into a long term fix, time to get it right. I think the new mirrors are my favorite part of the makeover.
HOW TO ADD A DECORATIVE FRONT TO A BATHTUB WITH BEADBOARD AND MOLDING
There is one of those modular shower enclosures in this bath that I had to keep as this was truly a budget project. I wanted to make it blend into the background as much a possible so I made a beadboard frame to hide the front. The other way I made it less noticeable was to paint the room's walls the same color as the enclosure.
My initial plan was to make the decorative front in front of the tub – level with it, but I would have had to move the shower curtain rod out and it would have landed right smack in the middle of the window. I went to Plan B which was to wrap the decorative front over the front edge of the tub so the shower curtain rod could stay where it was.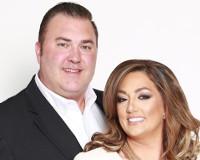 Author:
John and Ashley Lazosky
Phone:
702-281-1198
Dated:
May 28th 2015
Views:
1,801
About John and Ashley: We are the Broker/Owners of Vegas Homes and Fine Estates. We are proud to say we have a combined 22...